Drought and conflict have left record numbers of people in East Africa and the Sahel region in dire need of aid, with women and children facing the brunt of the crises. The world must act now to avert further suffering.
Millions of people are facing humanitarian catastrophe as drought continues to grip East Africa. The crisis is compounded by the COVID-19 pandemic, ongoing conflict, swarms of desert locusts, and surging food prices due to the war in Ukraine.

Over 14 million people across Somalia, Ethiopia and Kenya are already on the verge of starvation—about half of them children. This number will rise to 20 million by mid-2022 if the rains continue to fail, prices continue to rise, and world leaders don't boost aid funding to meet the needs of people in crisis.
Even in the best-case scenario—above-average rains ending the dry spell—it would take months for people to recover.
ABC News recently traveled to an International Rescue Committee hospital in Kakuma refugee camp, Kenya to see our work treating children for severe malnutrition. WATCH: Millions of lives at risk as famine stalks Horn of Africa
In East Africa
Ethiopia
The La Niña effect could exacerbate conditions in a country where climate change has increased the frequency of drought and flooding. These natural disasters and the continued conflict in the Tigray, Amhara and Afar regions have pushed Ethiopia up to second on the International Rescue Committee's list of crises expected to deteriorate most in 2022.
Learn more about the crisis in Ethiopia.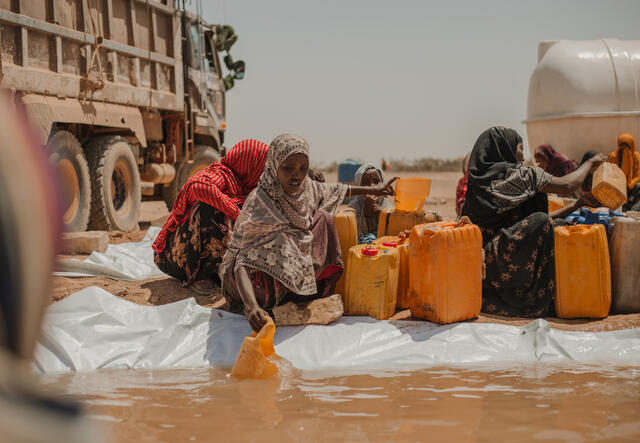 Bilan, 40, fetches water trucked in by the IRC to Ethiopia's Somali region. She says her family had 10 head of cattle before the drought, but now only has one. "We used to rely on our cattle for income," she says, "but now we share food with our neighbors."
Photo: Martha Tadesse for the IRC
Somalia
Over 500,000 people in Somalia have left their homes in search of food and water since the start of 2022. Somalia is experiencing political instability and ongoing fighting between al-Shabab and government and international forces. This conflict, paired with the impacts of climate change, has made Somalia one of the world's worst internal displacement crises.
Learn more about the crisis in Somalia.
Somalis displaced by drought, including this baby eating specially nutritious peanut paste, receive malnutrition screening and other health care at a mobile medical clinic operated by the IRC at a camp on the outskirts of Mogadishu.
Photo: Will Swanson for the IRC
Kenya
In September 2021, Kenya declared a state of national disaster with almost 3 million people on the brink of starvation. Thousands of Kenyans who depend on cultivation of crops and livestock are on the move to find new pastures or sources of income and food as the drought continues. Refugees from neighboring countries are also among those facing extreme hunger.
Learn more about the crisis in Kenya.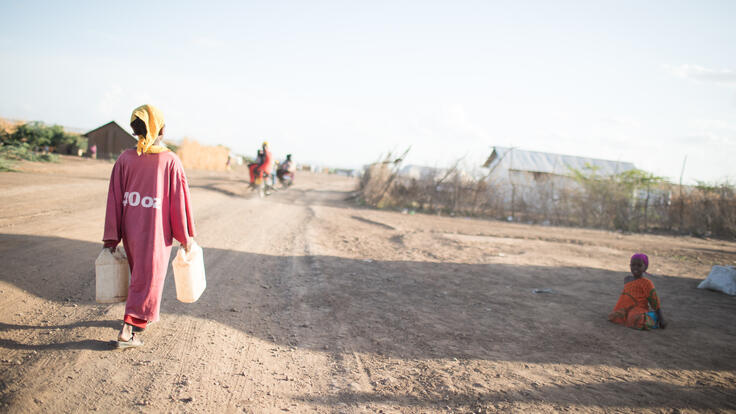 Halima Alwahab Mohamed, 10, fetches water near her home in Kakuma refugee camp in northern Kenya. Halima lives with her mother, Asho, who fled violence in Somalia in 2008. Kenya, Somalia and other countries in the Horn of Africa are facing the threat of famine amid ongoing drought.
Photo: Kellie Ryan for the IRC
Across the Sahel region
Conflict, economic shocks and climate change have been driving mass displacement in Africa's Sahel for years. Between 2015 and 2022, the number of people in the region in need of emergency food assistance nearly quadrupled, from 7 to over 30 million. By June 2022, the number expected to face extreme hunger could rise to over 40 million.
Today, record numbers of people are facing extreme hunger in Mali, Niger and Burkina Faso alone. Communities across the Sahel will need at least two years to recover from the ongoing hunger crisis—and if nothing is done, the scale of need will only grow.
Mali
Mali has experienced a decade of armed conflict and political instability in the north of the country. Over 7.5 million people in Mali need emergency aid, even as sanctions—the result of a decision to shelve promised democratic elections—severely limit their access to social services. Livelihoods have been shattered by poor harvest seasons and the ongoing insecurity that has blocked access to markets.
Learn more about the crisis in Mali.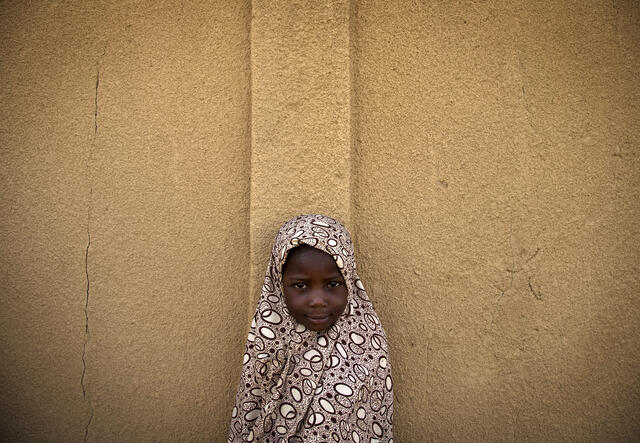 This girl waiting for a checkup at a United Nations clinic is among the over 7.5 million people in Mali who need emergency aid as drought and conflict continue to grip their communities.
Photo: UN/Marco Dormino
Niger
Years of conflict, compounded by climate shocks and poor access to basic social services, has forced a record number of Nigeriens to flee their homes. Failing harvests, seed shortages, and insecurity that has left growers in conflict areas unable to safely tend crops, mean that millions more will face severe hunger in the coming months if nothing is done to address urgent humanitarian needs.
Learn more about the crisis in Niger.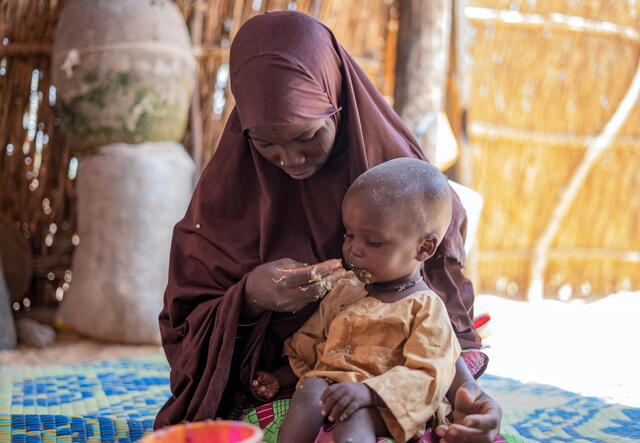 Kelou Kiarii, 25, was displaced when an armed group attacked her village in Niger. The IRC is providing her family with food and other emergency assistance, and treating her son Bidi for malnutrition.
Photo: Mamadou Diop for the IRC
Burkina Faso
Growing violence in Burkina Faso, including ethnic and religious conflicts, has forced people to leave their homes, fields and livelihoods behind. Almost 2 million people have become displaced, with over 90% of them unable to access land to plant crops this season. The war in Ukraine threatens to drive up already high food prices, meaning even more people will be unable to meet their basic food needs.
Learn more about the crisis in Burkina Faso.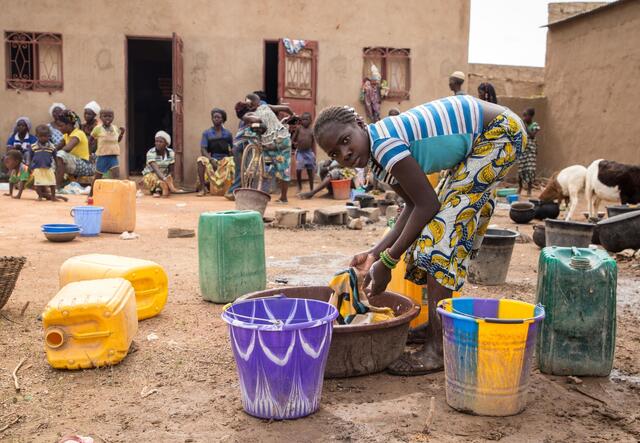 A girl washes her clothes outside at a shelter for families displaced by violence in Burkina Faso.
Photo: Olympia De Maismont/AFP/Getty Images
What must be done
We cannot afford for this growing crisis to be to be ignored or for aid budgets to be diverted away from the region. World leaders must increase humanitarian funding to address a dire situation that has been driven by years of insecurity and conflict, and is only getting worse.
Famine has nothing to do with having too many mouths to feed. The reality is much more complicated: The solution has to do with early action—before an official famine declaration—to address and mitigate the true sources of hunger crises: conflict and drought.